Journey to the Sacred Valley
Peru Retreat with Laura Teal and Amy Hogan
---
Join Laura and Amy on the adventure of a lifetime to the Sacred Valley in Peru! The Sacred Valley is a lush green valley tucked into the Andes mountains, originally known by the Incas for its fertile agricultural land and powerful spiritual energy.  Today, the valley's rich history and culture provide many opportunities for exploration, adventure, and reconnecting to the beauty of Mother Earth.
During this 7-day retreat, we'll deepen our yoga practice at a beautiful retreat center nestled in the mountains. Here, we'll connect to the richness of Peruvian culture! We'll explore our surroundings by hiking to nearby waterfalls, exploring local markets and villages, and taking part in cultural ceremonies.
We'll begin each day with an energizing yoga practice suitable for all levels of practitioners, followed by plenty of time to explore or relax.  Three meals of nourishing local cuisine will be offered at the retreat center each day. Additionally, join in on an optional guided excursion into the surrounding mountains and villages throughout the Sacred Valley.  We offer yoga practices during some evenings, along with time to recap your day's adventures. All excursions, ceremonies, and yoga practices will be optional…giving you the agency to choose your own adventure!  You also have the option to add on a 2-night trip to Machu Picchu at the end of the retreat.
We cannot wait to share this spectacular experience with you!  We know it will be incredible and life-changing to experience this beautiful land, its people, and its rich and ancient culture.  All are welcome! 
6 nights accommodations 

3 Vegetarian meals per day starting with dinner on the first night and ending with breakfast on the last day

Group Ground Transportation to/from Cusco Airport to Retreat Center

Daily yoga practices

Despacho Ceremony

Karma Yoga Service Project

Guided Hike to Sacha Munay Waterfall

Personal retreat time (having time to nap, explore, walk, read, and just be)
Accommodations
The retreat center's name translates as "love from the ancient forest." It is nestled in an oasis of native plants and fruit trees, nourished by a magnificent waterfall in the Sacred Valley of Peru. This lovely spot is in the Andes Mountains and home of the twelve mountains known as Apus—"luminous beings." Those who come to the center have the opportunity to commune directly with these mountains, as well as with the local curanderos and pacos (healers), who engage with us for ritual and Despacho ceremony.
The guests at this center enjoy delicious meals with locally-grown and lovingly-prepared ingredients. Each guest-room is a reflection of the Peruvian culture of the Sacred Valley. The entire center embodies kindness, love, and wholeness that seem to permeate the magical place.
Amy Hogan:
I was introduced to the benefits of yoga in 2001, while living in Charleston, SC. I initially established a yoga practice to help alleviate stress and release tension resulting from daily life in corporate sales, but I soon discovered that the practice was much deeper and vast than I ever imagined! My curiosity grew, along with my dedication to a healthy, conscious lifestyle centered around yoga. After moving to Austin in 2011, I made the decision to leave the corporate world to spend precious time with my young children, while exploring different styles of yoga and meditation. I soon received my 200RYT certification through an Austin-based Hatha Flow program, then started Total Balance Yoga, a company that provided on-site yoga to local businesses. In 2015, I opened Studio Mantra, a Yoga and Wellness Studio in Northwest Austin that offered many types of Yoga classes, Pilates and Barre classes, Massage Therapy, Energy Work and Creative Workshops.
Shortly after opening my studio, I began studying with my teacher and mentor, Amy Ippoliti, an international yoga teacher/author/Earth activist in Boulder, Colorado. Through many trips to Boulder over the years, and an immersion training in Nosara, Costa Rica, I completed over 300 hours of training with Amy.  I treasure my time with fellow students and look forward to many more years of studentship with Amy!
In August 2020, I decided to close my physical studio (as a result of thepandemic) and transition to a Livestream and Outdoor yoga company called Mantra Yoga Collective. We're currently offering around 30 Livestream classes a week, along with a library of On-Demand classes and 10 outdoor classes a week, including Aqua Yoga and Aqua Pilates in the heated pool of a private neighborhood club! The support from our community has been AMAZING, and I'm so very grateful to be a part of it all.
I would describe my teaching style as challenging, yet playful…motivating, yet mindful.  By linking breath with movement, I guide students through creative, flow-based sequences while offering insightful alignment cues and modifications. Most of my classes are theme-based with the goal of applying ancient yoga philosophy to modern day life; and I LOVE bringing in all types of music from DJ Drez to Bob Marley to Willie Nelson. I strive to teach to students of all levels and abilities and I aim to provide a space where all feel welcome and comfortable.
Laura Teal
I believe that yoga can help us access and claim love, acceptance, connection and other aspects of the Heart that are our birthright, our inheritance as humans.  I incorporate mantra and meditation, alignment work in the postures, dynamic and restorative sequencing elements, breath awareness, some corny jokes, and pep talks in my classes.  It is my hope that any one of these aspects of the practice can serve you as a pathway inward, to a deeper and more loving relationship with yourself. May that lead us to skilled action in the world we share.
I am certified at the 500-hour level thru the San Marcos School of Yoga (2017 – San Marcos, TX) and Yoga Yoga (2013 – Austin, TX) and am registered with Yoga Alliance as an E-RYT® 200, RYT® 500, YACEP® (I am approved to offer teachers Continuing Education course credit).  I am grateful to have incredible teachers to learn from, including my long-time mentor, Karlie Lemos. I would not be the teacher and student I am without my teachers, Christina Sell and Gioconda Parker.  The inspiration and wisdom from their lineage of teachings is invaluable to my life of practice. I also hold two degrees from Auburn University: BA in Art and BSBA in Marketing–War Eagle!
I grew up in Florence, Alabama on the Tennessee River. After college, I spent a few years in Chattanooga, Tennessee, before moving to Austin, Texas where I lived for nearly 9 years—the last 5 of which I spent steeped in care by the Mantra community. I have very recently (Feb 2021) moved back to Chattanooga to be closer to family and old friends who are my family.  It feels so good to be home, y'all. I enjoy frolicking in the mountains, hosting dinner parties, climbing on rocks, swimming in creeks, pulling weeds, watching the clouds after the sun sets behind Lookout Mountain, and I LOVE me a spontaneous dance party!
The Sacred Valley is a magical place for healing and adventure. Whether you feel called to get out and explore or stay in and restore, Peru is the perfect place to do so. During your retreat, you will have plenty of free time during which you can enjoy some of what Peru has to offer. Here is a selection of tours and activities that you will be able to choose from while in Peru: 
Healing bodywork and spa treatments

Tours of the local sacred sites

Hike to the nearby waterfall 

Coca leaf readings 

Traditional Incan ceremonies

Explore and shop in the local villages
*Additional tours and activities are not included in the tuition price
2-Day Tour of Machu Picchu:
This retreat includes the option to add-on an overnight tour of Machu Picchu to the end of your experience. Pre-registration is required.
$615 Shared Accommodations / $650 Single Accommodations
September 30, 2023; depart Peru on October 2, 2023.
Includes:
2 Nights Accommodations (1 Night Aguas Calientes, 1 Night Cusco)

Transportation (Private Transport, Bus, Train)

Tour Guide

Machu Picchu entrance fee
The journey will begin with a drive through the Sacred Valley, passing through several fascinating towns, villages, and sacred sites in the valley. Arriving in Ollantaytambo, a small town that still maintains its Inca architecture and offers the opportunity to visit and explore the majestic archaeological site, which overlooks the route to Machu Picchu.
Take a beautiful train ride from "Olla" along the river to the town of Aguas Calientes. Spend the night in Aguas Calientes, enjoying the quaint town along the river. Arrive in Machu Picchu the next day before sunrise to witness the illumination of the sacred ruins. Experience an unforgettable day at Machu Picchu, exploring the sacred Incan "City of Light," learning about the sacred ruins and taking moments to sit, breathe, and experience the powerful energy of one of the most sacred sites on the planet. After the tour, you will spend a final night in Cusco and take a shuttle to the airport the following day.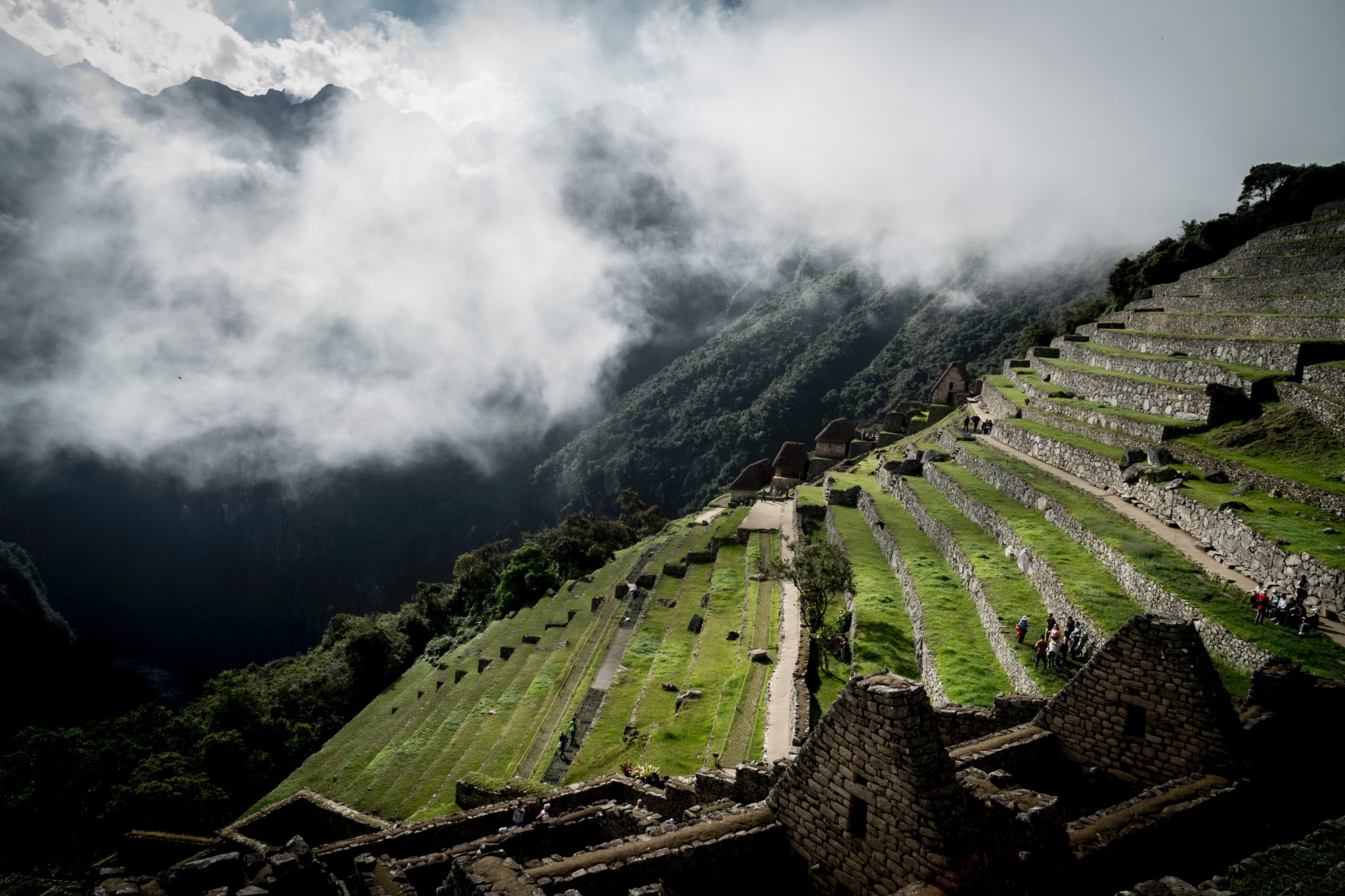 Please be sure to review Our Policies.

Registration

Paying an initial non-refundable deposit of $350 and $35 Payment Processing Fee (added to the tuition rate upon registration) will lock in your tuition rate and hold your space for the trip.
For technical questions or alternative payment options, please contact us.
Getting There
You will be booking your flights for the Cusco Airport (CUZ). Most flights will arrive via a connection in Lima. Before booking tickets, please be sure you have received your official confirmation note that the retreat has met its minimums. There will be one group airport shuttle each way based on our flight window guidelines. Be sure your flights align with the provided flight windows if you wish to use the group shuttle. The drive time to the center is approximately 1.5 hours. 
Travel Insurance
We cannot emphasize more the importance of travel insurance. As we all know, especially as travelers, "life happens." Whether it's family, work, mother nature, or a change of heart, it is important to be prepared in case you need to unexpectedly change your travel plans. Often for less than $150, you can purchase a travel insurance policy and be protected in the event that you need to make a change or need to be covered financially prior to or during your trip. 
We have partnered with two insurance companies: Trawick International and CSA Travel Insurance (available for U.S. Residents only). 
Read more about our insurance partners and their policies here. We encourage you to research the insurance company and policy that best meets your needs.
Frequently Asked Questions (FAQs)
Do you have questions about traveling abroad? After you register, we will provide you with a Participant's Package with helpful information. Also, be sure to check out our Participant FAQs. If you have other questions, feel free to write to us at info@truenaturetravels.com and let us know how we can help!
Shared Accommodations – $2595 USD
Single Accommodations – $3095 USD
Paying an initial non-refundable deposit of $350 and $35 Payment Processing Fee (added to the tuition rate upon registration) will lock in your tuition rate and hold your space for the trip.
For technical questions or alternative payment options, please contact us.
Cancellation
Initial deposits and the $35 registration fee are non-refundable and non-transferable.

50% of payments are refundable up to 90 days before a retreat excluding the initial deposit and the $35 registration fee.

89 days prior to a retreat, tuition is non-refundable and non-transferable.

Full tuition is refunded if the trip is canceled due to low enrollment. The $35 registration fee is not refundable.

True Nature Travels is not responsible for any loss incurred due to currency conversion rates.

Full tuition is refunded* if the trip is canceled due to low enrollment.
*Refundable amounts do not include applied credits.
If you wish to cancel your spot on a trip you must submit your cancellation by email to info@truenaturetravels.com.