Spread your wings and join Rabbi Batsheva Meiri, and Joshua Canter & Luna Ray (True Nature's Founders), and friends for a contemplative Tikkun Olam ("service") adventure journey to the Sacred Valley of Peru to explore what it means to be a Jew in the world. After a year like no other, we are looking to "being" together for this well-needed retreat and pilgrimage. Together, we will experience the richness of Peruvian culture, engage in meaningful acts of g'milut chasadim, community service projects, explore sacred sites. All the while weaving Jewish mindfulness practice and ritual to heighten our transformation as individuals and community. Immersed in native Peruvian spiritual traditions and rituals, we hope to reawaken in us the magic of being connected to the earth. This is at the heart of ancient Jewish tradition, but may have become lost to us. We will become a community of global spiritual explorers in search of our own personal True Nature.
7 nights accommodations 

3 meals per day starting with dinner on the first night and ending with breakfast on the last day

Group ground transportation to/from Cusco

Airport to Retreat Center

Despacho Ceremony

Daily activities and meditations
2 Day Machu Picchu Excursion
All excursions, activities, and service projects listed in the itinerary below

Personal retreat time (having time to nap, explore, walk, read, and just be)
Accommodations
The retreat center's name translates as "love from the ancient forest." It is nestled in an oasis of native plants and fruit trees, nourished by a magnificent waterfall in the Sacred Valley of Peru. This lovely spot is in the Andes Mountains and home of the twelve mountains known as Apus—"luminous beings." Those who come to the center have the opportunity to commune directly with these mountains, as well as with the local curanderos and pacos (healers), who engage with us for ritual and Despacho ceremony.
The guests at this center enjoy delicious meals with locally-grown and lovingly-prepared ingredients. Each guestroom is a reflection of the Peruvian culture of the Sacred Valley. The entire center embodies kindness, love, and wholeness that seem to permeate the magical place.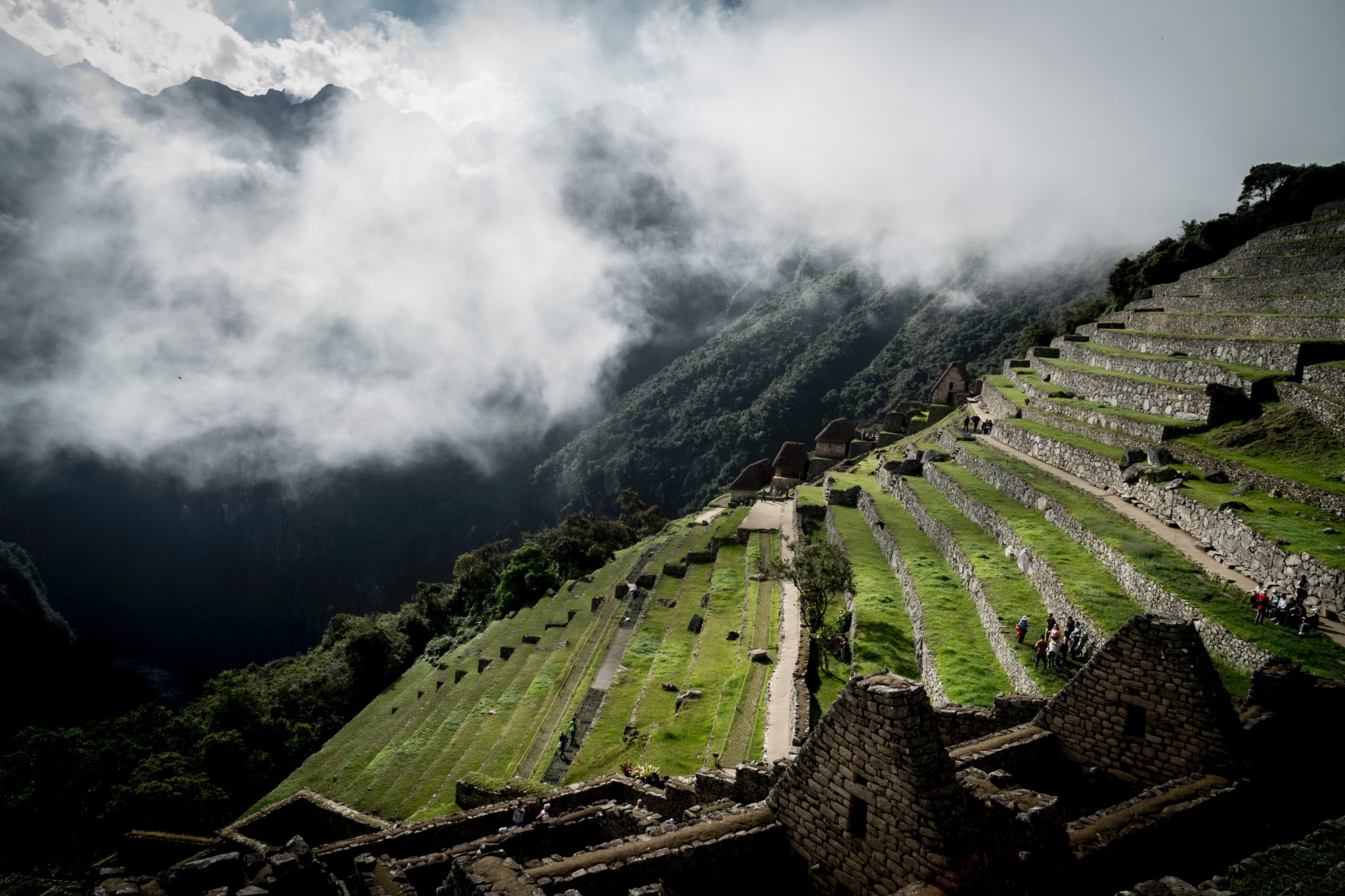 Itinerary*
June 17
Depart for Lima, Peru
The recommended itinerary is flying to Lima and spending the night at the airport hotel
Departing Lima to Cusco the following morning
Day 1 / June 18
Arrival Day
Optional Lunch at Retreat Center
Dinner
Short Opening Circle
Despacho Ceremony
Day 2 / June 19
Morning Practice
Breakfast
Orientation / Welcome Circle
Waterfall Hike
(Half will be in silence as we approach Waterfall…silent personal offering to the waterfall)
Lunch
Service Project – Land Stewardship On-Site
Evening Activity
Day 3 / June 20
Morning Practice
Depart for Pisac Day-Long Adventure
Pisac Mountain Trek
Local Lunch in High Mountain Village
Visit to Pisac Artisan Market
Return to Retreat Center
Dinner
Day 4 / June 21
Morning Practice
Breakfast
Service Project – School
Lunch
Afternoon Free
Dinner
Evening Activity – Circle and Star Gazing Meditation
Day 5 / June 22
Morning Practice
Breakfast
Leave for MP 2 Day Journey
Visit Ollantaytambo Ruins
Lunch
Train to Aquas Calientes
Dinner
Stay at Hotel in Aquas Calientes
Day 6 / June 23
Breakfast
Day at Machu Picchu
Train back at 4pm
Shabbat Dinner at Retreat Center
Day 7 / June 24
Morning Shabbat Practice
Open Session TBD
Lunch
Open Session TBD
Dinner
Kabbalat Shabbat
Closing Circle
Day 8 / June 25
Leave in the AM
Guided Walking Tour of Cusco
Depart Cusco in PM > Lima > Red Eye back to US
*Itinerary Subject to Change

RABBI BATSHEVA MEIRI
Rabbi Meiri comes to Congregation Beth HaTephila in Asheville, NC, after serving as spiritual leader of Temple Emanuel of Baltimore for eight years and Associate Rabbi at Temple Sinai of Roslyn for four years. She graduated with distinction with a degree in Philosophy from the University of Wisconsin, Madison in 1991, and was ordained from the Hebrew Union College in New York in 1996. During her career, Rabbi Meiri has been involved in numerous community organizations. She served as secretary of New York Association of Reform Rabbis and she was the New York Campus Liaison of Women's Rabbinic Network. In the greater Baltimore Jewish community, she served on the board of the Jewish Community Center, the Board of Teachers Licensing, the Interfaith Council of Baltimore Jewish Council, and was also active with the Institute for Christian and Jewish Studies in Baltimore. Nationally, she is a member of the CCAR Committee on the Environment and is Secretary to the Women's Rabbinic Network.
JOSHUA CANTER
Co-Founder of True Nature Travels and the CREER Service Organization, Joshua is the Director of True Nature
Travels. He has a BA in Intentional Community Development and an MA in contemplative psychology with an emphasis on Mindfulness. Joshua is a trained facilitator, mediator, NVC (Non-Violent Communication) practitioner, and yoga and meditation instructor. The past 10 years Joshua has been living part-time in Costa Rica and Asheville, North Carolina, teaching courses and workshops, leading retreats, and accompanying his wife musically while they travel throughout the country.
LUNA RAY
Luna is a teacher of yoga, a workshop and retreat leader, kirtan musician and recording artist, a somatic practitioner and an activist for conscious and empowered community collaboration. She is RYT-200 yoga certified, a recording artist, is SEP (Somatic Experiencing Practitioner) certified, a mother to two lovely girls, and has traveled the world teaching and learning for the last 20 years.

Luna works with the deep intention of inspiring and encouraging humans to cultivate an awareness of their inherent wisdom. Luna believes that by coming together, and using the tools of yoga, including mantra, music and meditation, we are led to our hearts deepest desires, and we build the strength to act upon them.
Luna has a BA in Community Studies, and is a Co-Founder of True Nature Education (http://truenaturetravels.com) and The CREER Service Organization (501c3).
For more information about Luna and her offerings you can go to:
Please be sure to review Our Policies.
Registration

Paying an initial non-refundable deposit of $350 and a $35 Payment Processing Fee (added to the tuition rate upon registration) will lock in your tuition rate and hold your space for the trip.
For technical questions or alternative payment options, please contact us.
Getting There 
You will be booking your flights for the Cusco Airport (CUZ). Most flights will arrive via a connection in Lima. Before booking tickets, please be sure you have received your official confirmation note that the retreat has met its minimums. There will be one group airport shuttle each way based on our flight window guidelines. Be sure your flights align with the provided flight windows if you wish to use the group shuttle. The drive time to the center is approximately 1.5 hours. 
Travel Insurance
We cannot emphasize more the importance of travel insurance. As we all know, especially as travelers, "life happens." Whether it's family, work, mother nature, or a change of heart,it is important to be prepared in case you need to unexpectedly change your travel plans. Often for less than $150, you can purchase a travel insurance policy and be protected in the event that you need to make a change or need to be covered financially prior to or during your trip. 
We have partnered with two insurance companies: Trawick International and CSA Travel Insurance (available for U.S. Residents only). 
Read more about our insurance partners and their policies here. We encourage you to research the insurance company and policy that best meets your needs.

Frequently Asked Questions (FAQs)
Do you have questions about traveling abroad? After you register, we will provide you with a Participant's Package with helpful information. Also, be sure to check out our Participant FAQs. If you have other questions, feel free to write to us at info@truenaturetravels.com and let us know how we can help!
Shared Accommodations – $2695 USD
Single Accommodations – $2995 USD
Paying an initial non-refundable deposit of $350 and a $35 Payment Processing Fee (added to the tuition rate upon registration) will lock in your tuition rate and hold your space for the trip.
For technical questions or alternative payment options, please contact us.
Cancellation
Initial deposits and the $35 registration fee are non-refundable and non-transferable.
50% of payments are refundable up to 90 days before a retreat excluding the initial deposit and the $35 registration fee.
89 days prior to a retreat, tuition is non-refundable and non-transferable.
Full tuition is refunded if the trip is canceled due to low enrollment. The $35 registration fee is not refundable.
True Nature Travels is not responsible for any loss incurred due to currency conversion rates.
Full tuition is refunded* if the trip is canceled due to low enrollment.
*Refundable amounts do not include applied credits.
If you wish to cancel your spot on a trip you must submit your cancellation by email to info@truenaturetravels.com.