You deserve luxury and abundance in your life. Truly unplug and unwind as you bask in the Grecian sun and surround yourself with the sweet smell of salt air. With breathtaking views of the Aegean sea we will help you realign allowing you to explore physical and spiritual growth and discover your more dynamic self. Our daily yoga classes will create a union of body and breath with a
focus on connecting to the water element that makes up the vast majority of our bodies. When this flow is accessed, optimal energy, awareness, and joy can be found. Based in the yoga style of flowing vinyasa, we will also offer the styles of hatha, yin, and restorative yoga, and a playful (but optional) acro class along with daily guided meditations. For beginner to advanced practitioners, all levels of yoga will be offered and encouraged and classes will be customized to fit the personal goals of each participant.
All this pampering and connection will take place at the 5-Star Hotel and Spa which combines Eastern and Western healing arts and the best of classical Spa and beauty treatments, as well as delicious freshly prepared foods and beverages. Life is precious–come reconnect and renew in this truly special place with Christa. 
6 nights accommodations
3 meals per day starting with dinner on the first night and ending with breakfast on the last day
Group ground transportation to/from the port on Amorgos to the retreat center
Daily yoga practices
Free use of spa facilities (sauna, hammam, jacuzzi, indoor heated seawater swimming pool, and fitness center)
10% discount on all spa treatments
Unlimited internet access
Personal retreat time (having time to nap, explore, walk, read, and just be)
Accommodations
This beautifully designed, family-run hotel is nestled on the cliffs of a quiet and peaceful Greek Island. Conveniently located near the bay and within walking distance of sandy beaches. Every room has a simple, elegant decor and boasts views of the sea. The hundreds of reviews comment that the staff is incredibly friendly, welcoming, and super helpful and most guests leave feeling like they have made new friends. Their chefs provide healthy, gourmet meals that incorporate fresh organic produce from their garden. They offer full services, from spa to gym to pool. Come and enjoy an authentic Greek experience.
Christa Mastrangelo Joyce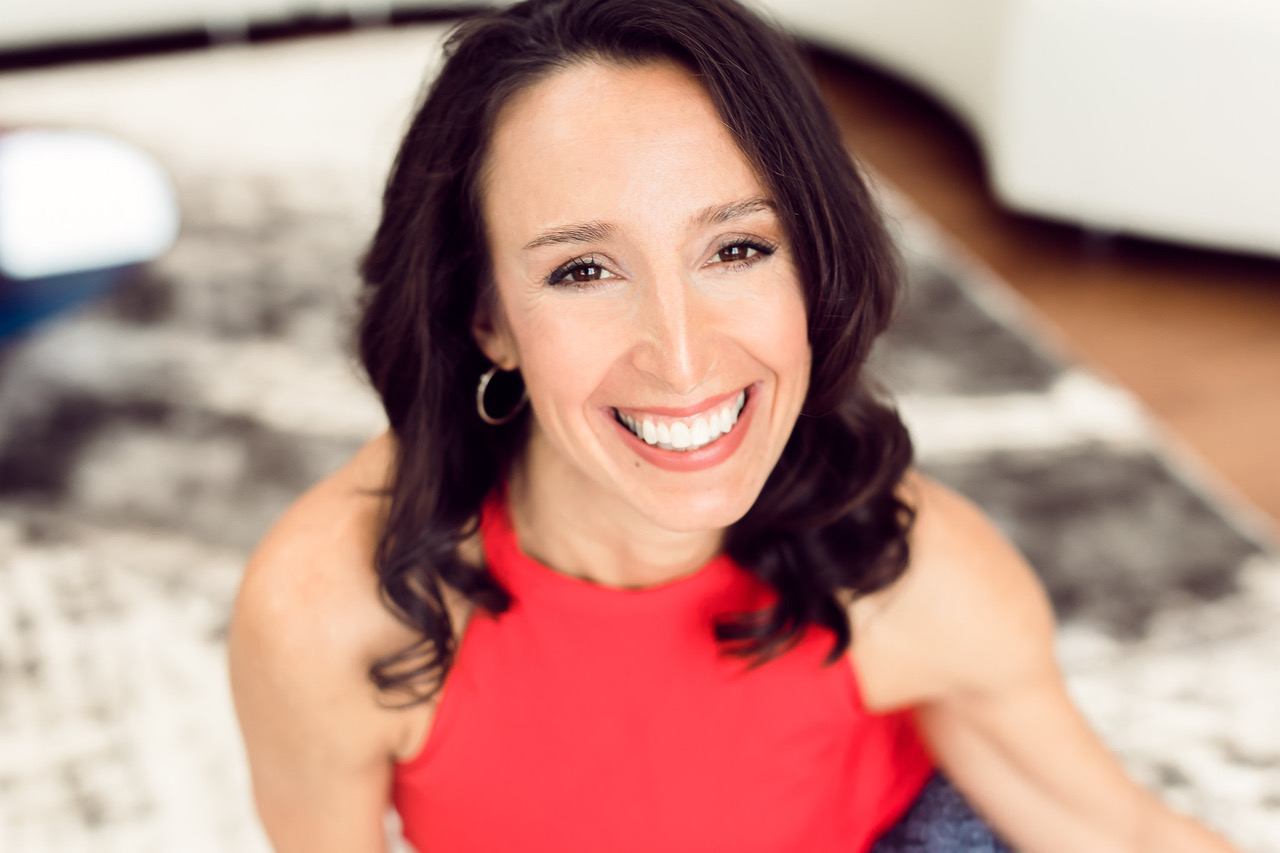 Christa Mastrangelo Joyce is E-RYT500 hour certified through Kim Manfredi. She holds an additional 1000 hours of training through her studies with Sianna Sherman, Bernie Clark, Maria Garre, Shiva Rea, Desiree Rumbaugh, Tiffany Cruikshank, and Andrew McCaulay. Christa is the owner of Jala Yoga with locations in Shepherdstown, West Virginia and Winchester, Virginia. She blends her early background and knowledge of Ashtanga with a strong alignment-based infusion of Iyengar Yoga. Her teachings emphasize moving fluidly and safely, with a strong understanding of anatomy and Ayurveda, and incorporate her knowledge of breath work, meditation, and Yoga philosophy. She brings her love of story and mythology to the practice, as well as her understanding of Yin Yoga and Traditional Chinese Medicine. She works to create classes that allow people to feel at home in their body while providing space for them to become stronger, healthier, more attuned to life, and more connected to their self and to the world around them. Christa loves to share the gifts that yoga has offered her and to help each person find their own path to this joyful practice. She hopes that each person who leaves her class finds strength, nourishment, and balance, as well as the wonder of life within and around them.
Testimonials
"My Cabo retreat with Christa Mastrangelo was perfect! The classes that
Christa offered were varied and each one felt special in their own way. Her calming, patient and very spiritual demeanor, were the perfect marriage with the beautiful and tranquil surroundings of Cabo. For anyone looking for peace, relaxation  and fun, this is a retreat for you!"
–Scott
 "Thank you for including us in your Baja Bliss retreat!  It far exceeded our expectations in every area! From your first yoga session, Christa's teaching style and gentle guidance to each pose ensured that I would fully embrace the rest of the retreat. She is an excellent teacher! I am not an early bird, but for the entire retreat, I was up at 7:00 a.m. and looked forward to what she would teach us all during all of your sessions. I am thankful to her for sharing her wisdom, leadership and encouragement to continue and enhance our own practice." –Dave
Amorgos is a picture-perfect Greek island. From traditional villages to stunning beaches, this secluded island is everything you imagine when you dream of a Greek holiday. During your retreat, you will have the opportunity to experience the island through various tours and activities. These excursions will give you a chance to discover what makes Amorgos so spectacular. Whether you are learning traditional Greek dance moves, exploring the underwater world of Greece, or hiking through local villages, tours and activities are a great way to make the most of your time in Greece.
Some of the possible options for tours and activities during your Greece retreat include:
Hiking Tours
Herbal Tours
Cooking Demonstration
Snorkeling
Organic Gardens
Greek Nights (Traditional Greek Music and Dancing)
*Activities not included in the price of tuition
Please be sure to review Our Policies.

Registration

Click Here to Register Now! 
Paying your initial deposit of $350 will lock in your tuition rate and hold your space for the trip. A non-refundable $35 Payment Processing Fee will be added to the tuition rate upon registration.

For technical questions or alternative payment options, please contact us.

Getting There 
Included in the retreat is a shuttle from the local port on Amorgos Island to the retreat center. Participants will be responsible for securing their transportation to Amorgos Island. There are many ways to come to this island and this will depend on your travel plans. Many participants enjoy arriving in Athens a day early and staying a day later in order to have more ferry options and travel flexibility. Once the retreat is confirmed, you will receive complete information about the airports and the ferry options that will bring you to your destination. The center is a 5 or 35-minute shuttle ride, depending on which port you arrive at.

Booking your Flight for the Best Price Possible!

True Nature Travels and STA Travel have partnered together to provide you the best airfare for your upcoming trip. STA Travel is a full-service travel agency which offers affordable, flexible fares and access to their exclusive airfare deposit program. Please use the following link to book or contact STA Travel directly: http://www.statravel.com/solutions/true-nature.htm.
Travel Insurance
We cannot emphasize more the importance of travel insurance. As we all know, especially as travelers, "life happens." Whether it's family, work, mother nature, or a change of heart, it is important to be prepared in case you need to unexpectedly change your travel plans. Often for less than $150, you can purchase a travel insurance policy and be protected in the event that you need to make a change or need to be covered financially prior to or during your trip. 
We have partnered with two insurance companies: Trawick International and CSA Travel Insurance (available for U.S. Residents only). For Non-U.S. Residents this policy with Trawick insurance is available: Safe Travels Multi-National. 
We encourage you to research the insurance company and policy that best meets your needs.
Frequently Asked Questions (FAQs)
Do you have questions about traveling abroad? After you register, we will provide you with a Participant's Package with helpful information. Also be sure to check out our Participant FAQs. If you have other questions, feel free to write us at info@truenaturetravels.com and let us know how we can help!
Shared Accommodations – $2295 USD 
Single Accommodations – $2595 USD
Paying your initial deposit of $350 will lock in your tuition rate and hold your space for the trip. A non-refundable $35 Payment Processing Fee will be added to the tuition rate upon registration. 
For technical questions or alternative payment options, please contact us.
True Nature Travels is closely monitoring the situation regarding the COVID-19 coronavirus and its impact on global travel. If you have any questions or concerns, please contact us directly at info@truenaturetravels.com.
Cancellation
Initial deposits and the $35 registration fee are non-refundable and non-transferable.

50% of payments are refundable up to 90 days before program excluding initial deposit and the $35 registration fee.

89 days prior to a program, tuition is non-refundable and non-transferable.

Full tuition is refunded if the trip is canceled due to low enrollment. The $35 registration fee is not refundable.

True Nature is not responsible for any loss incurred due to currency conversion rates.
*If you wish to cancel your spot on a trip you must submit your cancellation by email to info@truenaturetravels.com.
Certain events may occur, including but not limited to natural disasters, political instability, strikes or other labor difficulties, insurrection, war, riots, acts or threats of terrorism, disease epidemics or outbreaks, other disturbances, or other acts of God (a "Force Majeure Event") which are beyond True Nature's control. True Nature reserves the right to cancel any Trip or Activity which, in True Nature's sole discretion, is rendered unsafe or otherwise unavailable due to a Force Majeure Event.
In the event of a cancellation due to a Force Majeure Event, True Nature will make reasonable efforts to obtain refunds for any costs or expenses paid by you through your Initial Deposit or Tuition payments and to return such refunds to you. However, True Nature cannot guarantee that it will be able to obtain refunds. True Nature shall not be liable for any loss or damage suffered by you, including but not limited to the loss of an Initial Deposit and/or Tuition, as a result of a Force Majeure Event and/or the cancellation of a Trip or Activity due to a Force Majeure Event.
Depending on the nature of the Force Majeure Event, True Nature may allow the Trip to continue with any necessary modifications or may allow you to cancel your participation in the Trip. True Nature will provide information to you about any actual or anticipated Force Majeure Event.