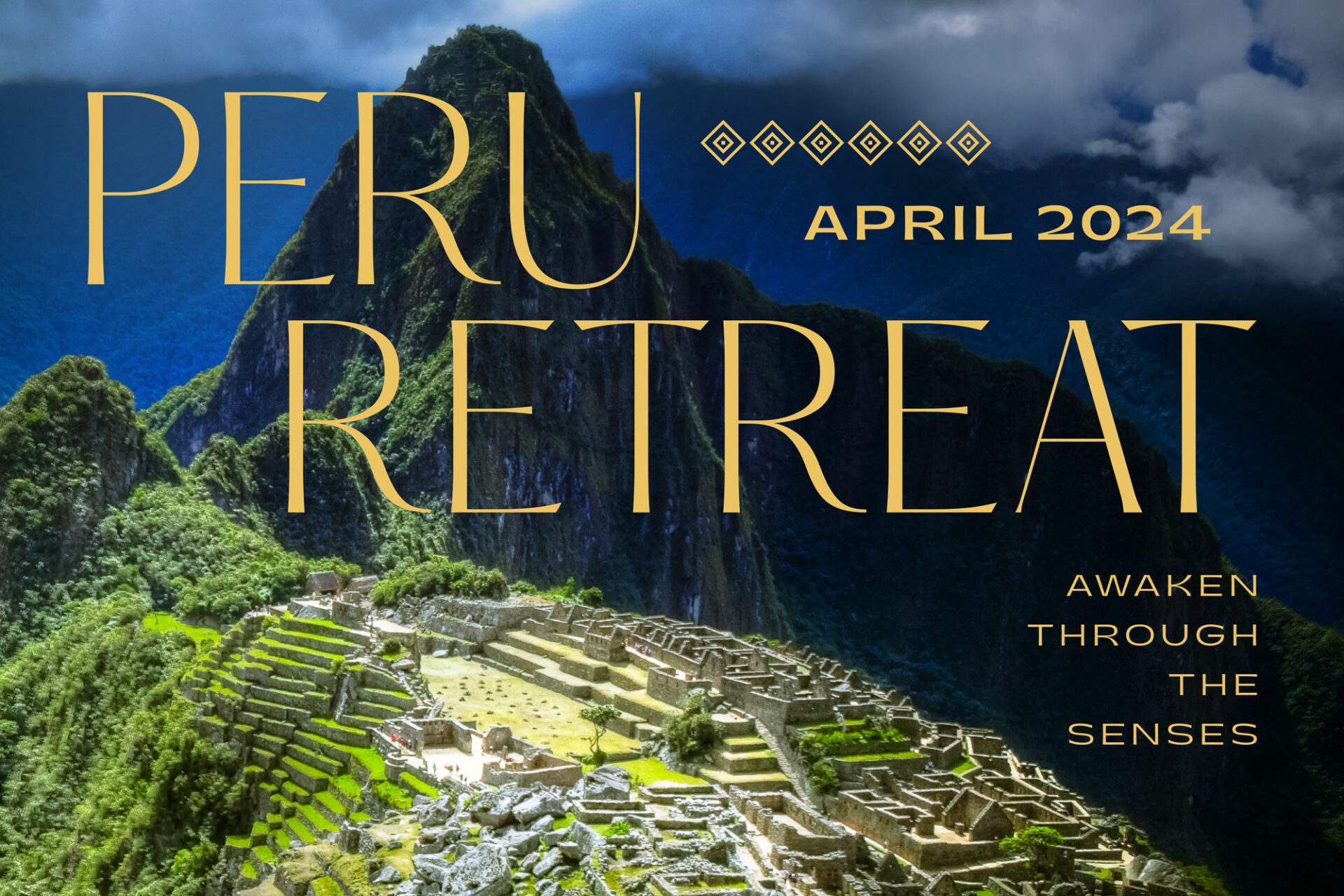 Awaken Through the Senses: Yoga & Sound Healing
Sacred Valley, Peru Retreat
With Heidi Grace Dietrich & Kellie Schneider
---
Awaken through the senses in Peru's Sacred Valley. Drink in the vibrant local culture, immerse yourself in breathtaking landscapes, and nurture your spirit at the Munay Sonqo Retreat & Yoga Center. Nestled in an oasis of natural beauty and wonder, surrounded by the luminous Andes Mountains and cascading waterfalls, this extraordinary sanctuary offers the perfect setting for restoration and renewal. Delight in delicious meals crafted from locally-grown ingredients and guest rooms reflecting the vibrant essence of Peru.
During this immersive 6-day nature retreat, embark on a profound journey of connection with Pachamama (Mother Earth) and experience your interconnectedness within the web of life. Indulge in the nectar of the five elements through your senses. Daily practices include guided yoga, meditation, breathwork and sound healing—as well as sacred rituals guided by Peruvian healers and wisdom keepers.
As the retreat concludes, we'll embark on a once-in-a-lifetime guided tour of the awe-inspiring Machu Picchu—explore its architectural marvels, breathe in the majestic vistas, and embrace the profound energy that permeates this sacred site. Rediscover yourself through the senses and the foundational energies of the five elements on this unforgettable journey through the boundless beauty and wisdom of Peru's Sacred Valley.
Description of Yoga Offerings:
Ayurveda inspired Asana, Pranayama and Meditation. 

Guided sound healing journeys that weave together breath, mediation, mantra, gentle postures, and therapeutic frequencies. 

Contemplative practices that invite introspection, reflection, and deep relaxation
6 nights accommodations 

3 vegetarian meals per day starting with dinner on the first night and ending with breakfast on the last day

Group Ground Transportation to/from Cusco

Airport to Retreat Center

Daily yoga practices

Personal retreat time (having time to nap, explore, walk, read, and just be)

Despacho Ceremony

Guided Waterfall Hike

Sound Healing

Pisaq Full Day Excursion (Visit Pisac in the sacred valley of the Incas. You can still see many people wearing colorful native dress. This small town still maintains its Inca architecture and offers us the opportunity to visit and explore majestic archaeological sites. In addition, visit the beautiful and rich Pisac market and explore the Pisac Ruins.)
Accommodations
The retreat center's name translates as "love from the ancient forest." It is nestled in an oasis of native plants and fruit trees, nourished by a magnificent waterfall in the Sacred Valley of Peru. This lovely spot is in the Andes Mountains and home of the twelve mountains known as Apus—"luminous beings." Those who come to the center have the opportunity to commune directly with these mountains, as well as with the local curanderos and pacos (healers), who engage with us for ritual and Despacho ceremony.
The guests at this center enjoy delicious vegetarian and vegan meals with locally-grown and lovingly-prepared ingredients. You may also purchase chicken and fish for $5 – $6 U.S. per portion. Each guest-room is a reflection of the Peruvian culture of the Sacred Valley. The entire center embodies kindness, love, and wholeness that seem to permeate the magical place.

Heidi Grace

As a yogini and an artist, Heidi Grace inspires us to explore yoga as an applied lifestyle, making art with our lives and relaxing into our Divine Self. 
Heidi Grace's gentle and nurturing approach to the yoga practice incorporates Ayurveda and Yoga Nidra. Her intention is to share the layers of yoga that will help people exist in total freedom and relax into the Divine. Through the dance of balancing the elements, she guides us toward harmonizing our inner truth with our actions and experiences. 
Heidi Grace received her 200-hour Yoga Teacher Training certification from Marianne Wells Yoga School in Costa Rica. She completed 108 hours of Anusara training in Boulder, Colorado and completed her 500-hour Yoga Teacher Training with Brenna Geehan and Jean Mazzei of SriYoga in San Francisco. During the pandemic she studied Polyvagal Theory, Ayurvedic Cooking and Nutrition, Vedic Astrology and Kundalini. She travels regularly to India for panchakarma retreats and is a lifelong student of Ayurveda.
Heidi Grace is the founder of Dharma & Grace Yoga Retreats, Nature Yoga Teacher Training and Charlevoix Yoga. In addition to Teaching Yoga, leading International Yoga Retreats and Yoga Teacher Trainings and offering Ayurveda Wellness Coaching, Heidi Grace is part of a Divine Design Consulting Business in Encinitas, California offering guidance on creating Conscious Destinations and sustainable Real Estate.
Kellie Schneider
Kellie is a sound healing artist, certified therapeutic harp practitioner, and registered yoga instructor holding additional certifications in Yoga Nidra and Restorative Yoga. Blending her diverse skills, Kellie weaves together gentle yoga, breath, meditation, and the transformative power of sound to create an integrated experience that nurtures every aspect of our being.
With a profound dedication to creating safe and inclusive spaces for all, Kellie fosters a sense of belonging and accessibility within her healing practices, where everyone feels welcomed and supported.
Kellie's spirit comes alive as she leads us on deeply restorative vibrational journeys, carefully cultivating an atmosphere of tranquility and harmony. Within this sacred space, she invites us to tap into our own inner wisdom and intuition, opening doors to self-discovery and personal growth. Honoring the power of direct experience, Kellie encourages introspection and self-reflection, empowering individuals to trust themselves fully. With gentle guidance, she helps us attune to the whispers of our innate wisdom, harmonizing our inner world and embracing the wholeness within.
Website: https://ritma.rest/
Testimonials
"Heidi Grace has a strong but gentle energy and has the innate ability of holding a safe and comfortable space for her students. She has a breadth of knowledge about yoga asana, yoga philosophy, and Ayurveda, which she effortlessly weaves into her teaching. I always leave her classes feeling replenished, grounded, and centered." – K.
The Sacred Valley is a magical place for healing and adventure. Whether you feel called to get out and explore or stay in and restore, Peru is the perfect place to do so. During your retreat, you will have plenty of free time during which you can enjoy some of what Peru has to offer. Here is a selection of tours and activities that you will be able to choose from while in Peru: 
Healing bodywork and spa treatments

Tours of the local sacred sites

Hike to the nearby waterfall 

Coca leaf readings 

Traditional Incan ceremonies

Explore and shop in the local villages
*Additional tours and activities are not included in the tuition price
This retreat includes the option to add-on an overnight tour of Machu Picchu to the end of your experience. Pre-registration is required.
2-Day Tour of Machu Picchu:
$615 Shared Accommodations
$650 Single Accommodations
April 21-23, 2024 (depart Peru on April 23rd, 2024)
Includes:
2 Nights Accommodations (1 Night Aguas Calientes, 1 Night Cusco)

4 meals

Transportation (Private Transport, Bus, Train)

Tour Guide

Machu Picchu entrance fee
The journey will begin with a drive through the Sacred Valley, passing through several fascinating towns, villages, and sacred sites in the valley. Arriving in Ollantaytambo, a small town that still maintains its Inca architecture and offers the opportunity to visit and explore the majestic archaeological site, which overlooks the route to Machu Picchu.
Take a beautiful train ride from "Olla" along the river to the town of Aguas Calientes. Spend the night in Aguas Calientes, enjoying the quaint town along the river. Arrive in Machu Picchu the next day before sunrise to witness the illumination of the sacred ruins. Experience an unforgettable day at Machu Picchu, exploring the sacred Incan "City of Light," learning about the sacred ruins and taking moments to sit, breathe, and experience the powerful energy of one of the most sacred sites on the planet. After the tour, you will spend a final night in Cusco and take a shuttle to the airport the following day.
Please be sure to review Our Policies.
Registration
Click Here to Register Now!  Paying an initial non-refundable deposit of $350 and $35 Payment Processing Fee (added to the tuition rate upon registration) will lock in your tuition rate and hold your space for the trip.
For technical questions or alternative payment options, please contact us.
Getting There
You will be booking your flights for the Cusco Airport (CUZ). Most flights will arrive via a connection in Lima. Before booking tickets, please be sure you have received your official confirmation note that the retreat has met its minimums. There will be one group airport shuttle each way based on our flight window guidelines. Be sure your flights align with the provided flight windows if you wish to use the group shuttle. The drive time to the center is approximately 1.5 hours.
Travel Insurance
We cannot emphasize more the importance of travel insurance. As we all know, especially as travelers, "life happens." Whether it's family, work, mother nature, or a change of heart, it is important to be prepared in case you need to unexpectedly change your travel plans. Often for less than $150, you can purchase a travel insurance policy and be protected in the event that you need to make a change or need to be covered financially prior to or during your trip. 
We have partnered with two insurance companies: Trawick International and CSA Travel Insurance (available for U.S. Residents only). 
Read more about our insurance partners and their policies here. We encourage you to research the insurance company and policy that best meets your needs.
Frequently Asked Questions (FAQs)
Do you have questions about traveling abroad? After you register, we will provide you with a Participant's Package with helpful information. Also, be sure to check out our Participant FAQs. If you have other questions, feel free to write to us at info@truenaturetravels.com and let us know how we can help!
Save $200 on full-price (shared only) ends October 1st, 2023!
Pricing will be set to end October 1st at 11:59 pm and new pricing starts October 2nd at 12:00am.
Shared Accommodations – $2695 USD (Full Price $2895 USD)
Single Accommodations – $3095 USD
Paying an initial non-refundable deposit of $350 and $35 Payment Processing Fee (added to the tuition rate upon registration) will lock in your tuition rate and hold your space for the trip.
For technical questions or alternative payment options, please contact us.
Cancellation
Initial deposits and the $35 registration fee are non-refundable and non-transferable.

50% of payments are refundable up to 90 days before a retreat excluding the initial deposit and the $35 registration fee.

89 days prior to a retreat, tuition is non-refundable and non-transferable.

Full tuition is refunded if the trip is canceled due to low enrollment. The $35 registration fee is not refundable.

True Nature Travels is not responsible for any loss incurred due to currency conversion rates.

Full tuition is refunded* if the trip is canceled due to low enrollment.
*Refundable amounts do not include applied credits.
If you wish to cancel your spot on a trip you must submit your cancellation by email to info@truenaturetravels.com.