Retreat to Reboot!
Bocas Del Toro, Panama Retreat with Tracy Von Kaenel
---
Life can be challenging, especially lately. At some point, we all need a reboot to come back into our best selves. This retreat will focus on peeling off the layers of intensity that the outside world deposits on us, to reveal the beauty and strength of our true nature once again.
Give yourself this gift of renewal with daily yoga and meditation classes, communing with nature, and exploring the beauty of this exclusive secluded island. You will be wrapped in good energy day after day from nourishing food and life-affirming rituals of health and wellness. This is a unique opportunity to be in the community of Yogis that supports and cares for each other while awakening the deep, spiritual, mental, and physical wholeness that everyday life can deplete.
I welcome you to take this journey with me…. an escape to within.
Join Tracy Von Kaenel in 2023 as you Retreat to Reboot in Bocas Del Toro, Panama!
Group ground transport to/from Bocas del Toro Airport to Retreat Center
6 Nights Accommodations at Retreat Center
Three meals per day starting with dinner on the first night and ending with breakfast on the last day.
Use of yoga room and facilities
1 Complimentary Mangrove Tunnel Sloth Excursion
Complimentary Rentals for SUP and/or Kayak and Paddle Boats
Unlimited use of snorkel gear
Pre-Arrival Soap Gift Box full of information on the Islands to support the local indigenous community.
Beach Bonfire Celebration (weather permitting)
Accommodations
This secluded island retreat venue is a unique gem in the islands of Bocas del Toro, Panama. Step away from reality and stay in one of the 10 incredible over-the-water bungalows with glass bottom floors and private decks. From there you can swim and snorkel in the crystal blue waters.
A wonderful local island staff is there to support you and your group with anything you need. Appreciate true tranquility in an unforgettable site that embraces the essence of True Nature.
During your stay, enjoy mouthwatering, wholesome food, serving breakfast, lunch, and dinner daily, with meals that feature local fish, farm-raised poultry, and local fruits and vegetables. Vegan, vegetarian, and gluten-free options are available.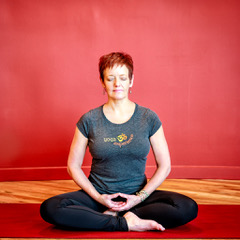 Tracy Von Kaenel
Tracy holds a Dance Performance degree from Northern Illinois University and was a professional dancer for 30 years. Tracy discovered Yoga as a way to extend her dancing life, and now has been teaching Yoga to adults and children for over 20 years. She received her Advanced Level II Yoga certification from Kriya Temple of Yoga in Chicago.  She has continued her studies with Eric Schiffmann, Ana Forrest, Angela Farmer and Rodney Yee to name a few.
She is also one of the premier Chair Yoga for Seniors instructors.  In addition, Tracy is one of the first people to offer Aerial Yoga to the city of Chicago.  Her love of Aerial dance led her to this hybrid style.
She has been featured in Yoga Chicago Magazine with articles about both her adult classes and her children's classes. Currently, Tracy is the proud owner of Yoga Experience in Chicago and also teaches at Galter Life Center. Formerly Tracy has also taught at Sweet Peas Studio, Presbyterian Homes, the Tai Chi Center of Chicago, Columbia College, and Indiana University. She has given lecture demonstrations and master classes throughout Chicagoland and Northern Indiana including Northeastern Illinois University, Roosevelt University and Indiana University, and Loyola Academy.
As a dancer, Tracy brings a unique understanding of the human body and its connection to the mind and spirit into all of her classes. Her teaching style is gentle yet bringing appropriate challenge to each student. Her goal is to bring greater body awareness, a deepening of one's own spirit, and profound sense of relaxation to all her students. Tracy's philosophy is to teach the stillness and strength of Yoga with knowledge, warmth and a sense of humor.
Tracy delights in bringing students to gorgeous locations for life affirming retreats. She has conducted successful retreats in Puerto Rico, several areas of Costa Rica, as well as local locations in Michigan, Wisconsin and Indiana near her Chicago home.
Testimonials
"Tracy is master instructor. She puts her heart and soul into every class that she gives us. I think it was a beautifully balanced retreat where we were able to experience the incredible environment while also deepening our practice."  — Retreat Participant
"Tracy's inspired yoga choreography and innate ability to build community among her yoga students is perhaps best experienced by going on retreat with her. Recent yoga retreats in Puerto Rico and Costa Rica have been magical, filled with invigorating yoga sessions (pool yoga, anyone?) and deeply-nourishing teachings."  — Retreat Participant
"I have been on 6 yoga retreats with Tracy Von Kaenel, some local and one in Puerto Rico and one in Costa Rica.  Each retreat has been unique, inspiring and fun.  It is always clear that Tracy has put a lot of thought into how she structures the retreats, so there is a good mixture of yoga, meditation/mindfulness instruction/encouragement, time outdoors to explore the surrounding areas, and time to share conversation, laughter and community.  It is a privilege to have two daily yoga classes with Tracy on the retreat, where participants with many different levels of yoga experience all practice together.  Yoga with an inspired teacher, a caring community of interesting and supportive yoginis, laughter, sunshine – what more can you ask for?"  — Retreat Participant
"Retreats with Tracy are a unique way to reconnect with nature, reawaken a sense of gratitude, and develop strong bonds with other people. During outdoor practices, she fosters a sense of wonder by pointing out miraculous details about each practice, such as hummingbirds circling the group. She is genuinely concerned with each individual's personal growth, and her intuitive talent feels personally targeted to each individual's needs: challenging, but adaptable for all levels. You will return from the retreat feeling a sense of wonder and delight with the world, equipped with new learning to enjoy nutritious food, maintain a healthy mindset, and move through your day with an energized body."  — Retreat Participant
"I look forward to Tracy's retreats as a time to escape, do yoga with my favorite teacher, eat great food and most of all be with many wonderful women. It is a time of reflection, relaxation, exploration and yoga time. I love it!"  — Yoga Student
"The first retreat I took with Tracy was life-changing as have been the many others I've enjoyed.  She is an accomplished and compassionate teacher. The retreat expanded my knowledge of yoga to include more than just the asanas, I met and deepened my connection to other yogis on the retreat. And it was fun with plenty of time for adventure and relaxation."  — Retreat Participant
"I've been to half a dozen of Tracy von Kaenel's retreats.   She is an excellent instructor of yoga with a genuine passion for the deeper meaning of the work.   I always feel revived physically, mentally and emotionally following a retreat under her tutelage.  Her classes are designed with a knowledge of what the body needs in order to proceed to the next level.   Both beginners and advanced students can gain from her expertise.  I am always challenged and leave with a renewed sense of strength and peace." — Retreat Participant
"Going to Tracy's yoga retreat in Costa Rica was one of the best things I have ever done. She carefully planned every detail, kept us informed, and provided the most meaningful experience, bringing amazing women together for this yoga collective. Each yoga session was different from the last, challenging and personalized, and left me feeling great. She even added amazing evening programming that helped us all bond and tie things together for us. I am so appreciative for the experience and can't wait to join her on the next retreat!" — Retreat Participant
While on your retreat you will also have the opportunity to take part in adventure activities and wonderful excursions. Some of the possible options include:
Paddle Boat

Boat Rides

Snorkeling

Kayak

SUP boards

Educational tours

And more!
*Price of some Activities are not included in tuition unless free or listed under inclusions.
Please be sure to review Our Policies.
Registration
A non-refundable $35 Payment Processing Fee will be added to the tuition rate upon registration.
For technical questions or alternative payment options, please contact us.
Getting There 
You will be booking your flights for the Bocas del Toro Airport (BOC/MPBO). Most international flights will fly into Panama City (PTY) where you will transfer (by taxi) to the Marcos A. Gelabert domestic airport (PAC) for the flight to Bocas del Toro (BOC).Before booking tickets, please be sure you have received your official confirmation note that the retreat has met its minimums. There will be one group airport shuttle each way based on our flight window guidelines. Be sure your flights align with the provided flight windows if you wish to use the group shuttle.
Travel Insurance
We cannot emphasize more the importance of travel insurance. As we all know, especially as travelers, "life happens." Whether it's family, work, mother nature, or a change of heart, it is important to be prepared in case you need to unexpectedly change your travel plans. Often for less than $150, you can purchase a travel insurance policy and be protected in the event that you need to make a change or need to be covered financially prior to or during your trip. 
We have partnered with two insurance companies: Trawick International and CSA Travel Insurance (available for U.S. Residents only). 
Read more about our insurance partners and their policies here. We encourage you to research the insurance company and policy that best meets your needs.
Frequently Asked Questions (FAQs)
Do you have questions about traveling abroad? After you register, we will provide you with a Participant's Package with helpful information. Also, be sure to check out our Participant FAQs. If you have other questions, feel free to write to us at info@truenaturetravels.com and let us know how we can help!
Shared Accommodations – $2995 USD 
Deluxe Shared Accommodations – $3595 USD 
Single Accommodations – $4895 USD
Deluxe Single Accommodations – $5895 USD
A non-refundable $35 Payment Processing Fee will be added to the tuition rate upon registration.
For technical questions or alternative payment options, please contact us.
Cancellation
Initial deposits and the $35 registration fee are non-refundable and non-transferable.

50% of payments are refundable up to 90 days before a retreat excluding the initial deposit and the $35 registration fee.

89 days prior to a retreat, tuition is non-refundable and non-transferable.

Full tuition is refunded if the trip is canceled due to low enrollment. The $35 registration fee is not refundable.

True Nature Travels is not responsible for any loss incurred due to currency conversion rates.

Full tuition is refunded* if the trip is canceled due to low enrollment.
*Refundable amounts do not include applied credits.
If you wish to cancel your spot on a trip you must submit your cancellation by email to info@truenaturetravels.com.