Journey to a Sacred Peru
Peru Retreat with Sianna Sherman and Masood Ali Khan
---
Join Sianna and Masood on a journey of a lifetime to Sacred Peru with yoga, live music, ceremony, and pilgrimage to powerful vortex sites.  Activate your heart wisdom as we open the gates in this Supercharged Portal with Lion's Gate and the Full Moon. 
Each day Sianna will offer transformative practices of Rasa Yoga with asana, mantra, mudra, pranayama, meditation and soul alchemy. Masood will guide you with his hand pans, meditative music, singing and a Full Moon Kirtan dance party! 
Peru is a land of mysterious beauty and profound spiritual connection. Experience the Sacred Valley and Machu Picchu, one of the seven wonders of the world, and be guided in traditional Andean ceremony and immerse in Peruvian culture. Deepen your connection with the earth and offer back by participating in the local Karma Yoga Service Project. 
Journey to Sacred Peru is an alchemical pilgrimage to deepen your spiritual connection with expansive states of awareness.  This is a perfect opportunity to gather in community with yoga, prayer, meditation, ceremony, and sacred site journeys. 
Sianna and Masood welcome you fully for a journey of a lifetime in Sacred Peru.
Group Ground Transport to/from Cusco Airport to Retreat Center

Accommodations: 7 Nights at Retreat Center

Three vegetarian meals per day starting with lunch on the first day and ending with breakfast on the last day

Use of yoga room and facilities

Despacho Ceremony (offering ritual of gratitude for mother earth)

Karma Yoga Service Project

Guided Hike to Sacha Munay Waterfall

2 day Machu Picchu excursion including transportation and hotel accommodations

Pisac half day excursion

Moray full day excursion

2-hr spa access
Accommodations
The retreat center's name translates as "love from the ancient forest." It is nestled in an oasis of native plants and fruit trees, nourished by a magnificent waterfall in the Sacred Valley of Peru. This lovely spot is in the Andes Mountains and home of the twelve mountains known as Apus—"luminous beings." Those who come to the center have the opportunity to commune directly with these mountains, as well as with the local curanderos and pacos (healers), who engage with us for ritual and Despacho ceremony.
The guests at this center enjoy delicious meals with locally-grown and lovingly-prepared ingredients. Each guest-room is a reflection of the Peruvian culture of the Sacred Valley. The entire center embodies kindness, love, and wholeness that seem to permeate the magical place.
SIANNA SHERMAN
Sianna (she/her), is committed to being Love-In-Action here on earth to serve. For nearly three decades, she has been an international yoga teacher, training tens of thousands of students and yoga teachers from around the globe. As the visionary of the Rasa Yoga Collective, Mythic Yoga Flow®, and RITUAL, Sianna shares her voice in the way of community and collaboration. She is a gifted storyteller and awakens the imagination through the language of the soul. Sianna is an apprentice of shadow work and weaves this into every offering. 
She is dedicated to social justice activism, anti-racism, mantra, ritual, emotional intelligence, Tantric yoga philosophy, and Celtic studies. Sianna brings a genuine presence to every offering with humility, devotion, and deep care for the collective. She leads Rasa Yoga teacher training courses, a 13 Moon Mystery School, and is a featured contributor to magazines, podcasts, and summits around the world. 
Sianna is eternally grateful for her Beloved, Masood Ali Khan. They are co-hosts of the Fearless Heart Activation series to inspire courageous conversations and brave space for real transformation in these times. They created Alchemy of Love to support deepening relationships and emotional intimacy for couples. 
Instagram: @SiannaSherman
MASOOD ALI KHAN
Masood (he/him), is a father, men's group & shadow exploring facilitator, energy healing, meditation, yoga and foundation training instructor. A unique musician of prayer, a pioneer of the bhakti handpan kirtan, holding a ceremonial space for a meditative uplifting experience with this mesmerizing combination; Infusing the power of the heart and mind's healing potential. Sonically sharing 'Music & Meditation as Medicine' with acclaimed music albums for international festivals, Rasa Yoga teacher trainings, 'Alchemy of Love' couples retreats and Alchemy of Avalon' pilgrimages with his beloved Sianna Sherman.
Masood's music brings the collective voice and prayers together with sacred mantras to interconnect our hearts as a web of love across the world. May we have the courage to feel, heal, love and evolve so we can serve humanity. May we together cultivate the mindset of peace, compassion, support and liberation.
Instagram: @MasoodAliKhanMusic
Testimonials
"My experience of Sianna and Masood as leaders, guides, and teachers is phenomenal. It was deep and touched my soul. They offered the space I needed to connect to the sacred and to Mother Earth."  – JC R.
"Sianna and Masood showed me what a full on yoga retreat was. Sianna is amazing in her knowledge of the asana practices, she holds the space magically teaching the true meaning of coming together and sharing in harmony. Masood is a master of the heart. His kindness and celebratory moods are infectious. Sianna and Masood showed me how to step up my place in the world. I was fully rejuvenated to enter back into life as a new person." – Peter G.
"I have been on 2 retreats with Sianna, Masood and the Rasa Yoga Collective. I can honestly say that they were life changing. Both retreats were in Glastonbury, the first in 2017 and the second in 2018. The retreats were extremely well organized and the supporting teachers were outstanding. The food and accommodations were excellent. Sianna, Masood and the Rasa team couldn't have been more gracious and welcoming as hosts and I would not hesitate to do another retreat with them in the future. A retreat with Sianna, Masood and Rasa Yoga is an unforgettable, life-changing experience and I can't wait for the opportunity to do another one." – Ian D.
"My training and retreats with Sianna are EPIC. She truly has a gift for weaving together the right group of people in the right place and at the right time to create pure magic. I always feel restored, rejuvenated, and filled with love. Retreats and training with Sianna are like entering a Hogswarts' portal. When you leave, you're filled with love and magic! Every retreat and training I've ever done with Sianna Sherman is pure magic. Life changing and transformative… you'll never be the same again." – Jackie F.
The Sacred Valley is a magical place for healing and adventure. Whether you feel called to get out and explore or stay in and restore, Peru is the perfect place to do so. During your retreat, you will have plenty of free time during which you can enjoy some of what Peru has to offer. Here is a selection of tours and activities that you will be able to choose from while in Peru: 
Healing bodywork and spa treatments

Tours of the local sacred sites

Hike to the nearby waterfall 

Coca leaf readings 

Traditional Incan ceremonies

Explore and shop in the local villages
Included excursions: 
Machu Picchu (August 1st-3rd, 2023)

This retreat includes the overnight tour of Machu Picchu at the end of your experience. 
Includes:
2 Nights Accommodations (1 Night Aguas Calientes, 1 Night Cusco)

4 meals

Transportation (Private Transport, Bus, Train)

Tour Guide

Machu Picchu entrance fee
The journey will begin with a drive through the Sacred Valley, passing through several fascinating towns, villages, and sacred sites in the valley. Arriving in Ollantaytambo, a small town that still maintains its Inca architecture and offers the opportunity to visit and explore the majestic archaeological site, which overlooks the route to Machu Picchu.
Take a beautiful train ride from "Olla" along the river to the town of Aguas Calientes. Spend the night in Aguas Calientes, enjoying the quaint town along the river. Arrive in Machu Picchu the next day before sunrise to witness the illumination of the sacred ruins. Experience an unforgettable day at Machu Picchu, exploring the sacred Incan "City of Light," learning about the sacred ruins and taking moments to sit, breathe, and experience the powerful energy of one of the most sacred sites on the planet. After the tour, you will spend a final night in Cusco and take a shuttle to the airport the following day.
Moray – Full day
Visit the energetic seed center of the sacred ruins of Moray and have the opportunity to feel the transformation of seeds, thus transforming ourselves. 
Pisac – Half day 
Visit Pisac in the sacred valley of the Incas.You can still see many people wearing colorful native dress.This small town still maintains its Inca architecture and offers us the opportunity to visit and explore majestic archeological sites.in addition, visit the beautiful and rich Pisac market and explore the Pisac ruins.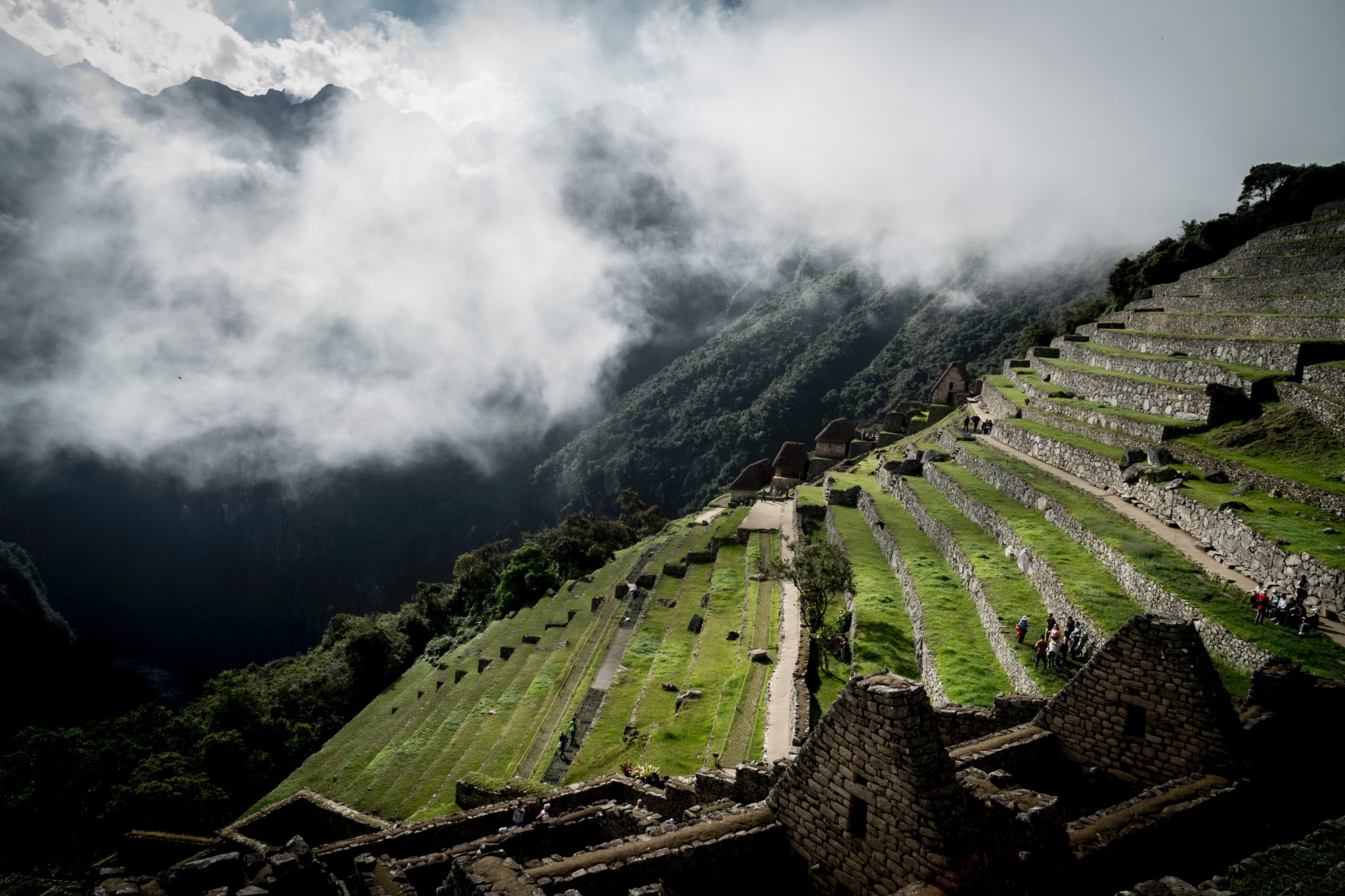 Please be sure to review Our Policies.

Registration

Paying an initial non-refundable deposit of $350 and $35 Payment Processing Fee (added to the tuition rate upon registration) will lock in your tuition rate and hold your space for the trip.
For technical questions or alternative payment options, please contact us.
Getting There
You will be booking your flights for the Cusco Airport (CUZ). Most flights will arrive via a connection in Lima. Before booking tickets, please be sure you have received your official confirmation note that the retreat has met its minimums. There will be one group airport shuttle each way based on our flight window guidelines. Be sure your flights align with the provided flight windows if you wish to use the group shuttle. The drive time to the center is approximately 1.5 hours.
Travel Insurance
We cannot emphasize more the importance of travel insurance. As we all know, especially as travelers, "life happens." Whether it's family, work, mother nature, or a change of heart, it is important to be prepared in case you need to unexpectedly change your travel plans. Often for less than $150, you can purchase a travel insurance policy and be protected in the event that you need to make a change or need to be covered financially prior to or during your trip. 
We have partnered with two insurance companies: Trawick International and CSA Travel Insurance (available for U.S. Residents only). 
Read more about our insurance partners and their policies here. We encourage you to research the insurance company and policy that best meets your needs.
Frequently Asked Questions (FAQs)
Do you have questions about traveling abroad? After you register, we will provide you with a Participant's Package with helpful information. Also, be sure to check out our Participant FAQs. If you have other questions, feel free to write to us at info@truenaturetravels.com and let us know how we can help!
Discounted Offer!
Shared Accommodations – $3695 USD (Old Price $4095)
Single Accommodations – $4195 USD (Old Price $4495)
Paying an initial non-refundable deposit of $350 and $35 Payment Processing Fee (added to the tuition rate upon registration) will lock in your tuition rate and hold your space for the trip.
For technical questions or alternative payment options, please contact us.
Cancellation
Initial deposits and the $35 registration fee are non-refundable and non-transferable.

50% of payments are refundable up to 90 days before a retreat excluding the initial deposit and the $35 registration fee.

89 days prior to a retreat, tuition is non-refundable and non-transferable.

Full tuition is refunded if the trip is canceled due to low enrollment. The $35 registration fee is not refundable.

True Nature Travels is not responsible for any loss incurred due to currency conversion rates.

Full tuition is refunded* if the trip is canceled due to low enrollment.
*Refundable amounts do not include applied credits.
If you wish to cancel your spot on a trip you must submit your cancellation by email to info@truenaturetravels.com.