According to Joseph Campbell, Carl Jung once asked, "What myth am I living by?" And when Jung realized that he did not know, he wrote, "I took it upon myself to get to know 'my' myth, and I regarded this as the task of tasks."
Join Jessica Patterson of Colorado's Root Center for Yoga & Sacred Studies as we journey into Iceland and make pilgrimage into our own inner myths and inner truths. Discover Yoga as a practice of revising inner narratives and use writing as a Yogic tool for self study.
Rewriting our embodied myths is about recognizing the body/experience/perception as a kind of discourse–wherein we read and write reality (what we assume is "real") upon ourselves and all others. Through our practices and sessions together, we will identify the personal and collective stories according to which we are living and explore revisions of thought, word, and deed. Through traditional Yoga practices (including asana, pranayama, meditation, chanting, kriya, satsang, and more), creative writing exercises, music, and specific rituals that usher us from the mundane into the sacred, we will give voice to the stories within and without and reclaim the truth of our stories.
We all are the embodiment of the stories we collectively, individually, unconsciously, and consciously tell through our thoughts, words, and actions. While some stories empower us to access and tap into hidden or unknown aspects of our whole selves, we often cling unconsciously to faulty, self-limiting myths that inhibit and imprison us. Whether we are reflecting on the internalized myth of not being good enough or calling upon the narrative of our inner courage, we are invited to look at the stories we have writ large into our body, our minds, our spirits, and revise (see anew).
Yogic scriptures have long taught us that the body is made of unresolved karmas—the echoes of these stories of thought, word, and action. And through the practices of Yoga, we can access and address the underlying myths that determine how we experience our bodies, our breath, our relationships, our lives, and our world. Further, we are always reading and writing the world–imposing and extracting meaning from our experiences and encounters. Thus it is a powerful practice to give voice to the internal dialogues, the hopes and dreams, the fears and heartaches that underpin our sense of self. We meet our patterns and so much of our inner workings when we provide a sacred space for what seeks expression.
Our weekend will invoke and call upon diverse wisdom traditions to guide and inspire us, from the Nordic myths of Iceland's own heritage to the stories of the Celts, Hopi, African, Hindu and
ancient Greek gods and goddesses. Together we will explore which myths we are "living by," how those stories are carried in our bodies, thoughts, and actions, and how to write our way to freedom and joy. Like all rites of passage, we will bring sacred inquiry into our practices of yoga (asana, meditaion, pranayama, bhakti, and kriya), dance, song, story-telling, masks-making, and more. We will savor solitude and silence, partner/small-group activities, and collective/tribal experiences to support reflection and expression. Reading and writing your life from these transformative perspectives, you will leave with a better sense of "your" myth.
Yet, always, we talk of transformation: Who were you? What childhood stories were impressed upon you? What were your favorite games? What did you treasure in your youth? What is enshrined on your mantle, hung from your rear view mirror, taped to your refrigerator door? What lies forgotten in the basement? What's secreted in the attic? Whom do you aspire to be? What new adventures do you envision? What face do you hope to see in the mirror? What's set upon your metaphoric altar, emblazoned on your bumper, pursued in your fantasies?
If you are willing to re-vision yourself, then join this improvisational ritual of rebirth.
Sample Itinerary
Every retreat is unique and, as such, the itineraries are ever-changing! We finalize the itineraries about 3-6 weeks before the retreat, but after 10 years of hosting retreats, we do have a general idea of what most schedules look like.
Most retreats include one-to-two daily yoga classes. One class takes place in the morning, either just before or just after breakfast. After the first class and meal, you have free time to explore, relax, or take part in optional add-on activities. Lunch (if included in your retreat) will take place midday, during this free time. There is then, usually, an afternoon class followed by dinner. Occasionally some teachers choose to offer an evening restorative class or group gathering after dinner as well.
In addition, there is usually one dedicated "excursion day" in which we do not have scheduled yoga classes. This is a day for people to take advantage of some of the more involved tour and excursion offerings and is always a lot of fun!
Again, this is a very general look at what your retreat schedule could be. We work closely with the teachers to design unique itineraries that reflect their style and the group that's traveling with them. Once your specific retreat itinerary is complete, we will send it out via email, usually two or more weeks before the retreat starts. Please keep in mind all retreat itineraries are subject to change.
6 Nights Accommodations

3 Vegetarian Meals Each Day

Round-Trip Group Transport to/from the Airport

Daily Yoga Practices

Personal Retreat Time (having time to nap, explore, walk, read, and just be)
Accommodations
Nestled at the base of some of Iceland's dramatic mountains, the Mountain Lodge Yoga Retreat is the perfect way to experience the beauty and peace of Iceland. What was once an ancient sheep farm and home to Viking settlements is now a cozy mountain lodge with beautiful cottages and a nature filled atmosphere. Relax and rejuvenate with the outdoor hot tub, indoor sauna, spa house, and barn-turned yoga room! During the summer months, enjoy endless sunlight and opportunities to explore the local wildlife on the Troll Peninsula. During the colder months, gaze in awe at the northern lights and snow-capped mountains. While staying at this retreat center, you can look forward to delicious, healthy meals, opportunities to hike, ride horses, and explore the local wilderness, and simply relax and enjoy!!
Jessica Patterson
Jessica Patterson has been practicing and discovering yoga for more than 25 years, during which time she has had the great privilege of exploring many methods, approaches and teachers, including her most formative teachers, Sharon Gannon, David Life, Mark Whitwell, Manorama, and Nischala Joy Devi. She is a 500-hour Experienced Registered Yoga Teacher with Yoga Alliance and a Certified Yoga Therapist through the International Association of Yoga Therapists. As a graduate of both The Institute for Integrative Nutrition (NYC) and the Nutrition Therapy Institute (Denver, CO), Jessica weaves together her diverse passions as a teacher, writer, nutrition therapist, and integrative consultant to emphasize integration and wholeness in all she does. She is the founder and director of the 7-month, 200+ hour RootEd Apprenticeship & Teacher Training Program (in its 10th year). In RootEd, Jessica leads small, intimate groups of students deeply into the embodied experience of Yoga as they discover the teacher within. In 2014, Jessica opened Root: Center for Yoga and Sacred Studies, a Colorado Springs-based sanctuary that serves as a home for her public classes, workshops, Sadhaka Sessions (intensive learning modules for those who seek deeper study outside of "teacher" trainings), 1:1 sessions, and more. Jessica has been offering retreats for over 11 years in diverse locations (Colorado, Mexico, Hawaii, New Mexico, and Iceland in 2019), integrating thought-provoking themes. In addition to her public offerings at Root, Jessica loves to work with individuals one-on-one through Yoga Therapy, Nutrition Therapy, Mentoring, and Off the Mat sessions. Whether teaching public classes or intensive offerings and retreats, Jessica is committed to sharing Yoga as an empowering technology relevant to our modern lives. Making it "real" is what it's all about.
Jessica has served as a faculty member/guest teacher for various
teacher-training programs over the years, including Lahiri School of Yoga (North Carolina), Yoga Durango, Cambio Yoga, Spirit of the Lake Yoga in MN, Corepower Yoga, Hot On Yoga, and The Frejya Project in Denver. As full faculty for Inner Peace Yoga Therapy, she has delighted in supporting budding Yoga Therapists who are pursuing the specialized training the school offers. Jessica has taught nationally and internationally, and is currently designing immersion projects that emphasize inner pilgrimage.
With an M.A. in English, her forthcoming writing projects offer grounded and personal explorations of how yogic teachings can help ordinary, everyday people navigate life's ups and downs (from divorces and deaths to financial uncertainty and health diagnoses). Her book and other essays come directly from her own experience as a student (and teacher) of yoga for 25 years.
Jessica believes that the ultimate purpose of yoga is to remember and embody who and what we really are and to recognize that as whole and holy. Missing nothing. The goal of her teaching is to help students free themselves from limiting thoughts and ideas. Jessica's dedication to and respect for all these practices have enabled her to infuse her teaching with deeply spiritual, physically rigorous, and truly uplifting classes that seek to liberate and bring joy to each student.
Iceland is a country built for nature-lovers. Gushing waterfalls, striking glaciers, and spontaneous rainbows wait behind every corner. Take advantage of your time in Iceland to explore the endless beauty, or give yourself a break and enjoy the more relaxing offerings, such as the volcanic hot springs, that make Iceland an ideal destination for a retreat. Some optional activities include:
Go for a Midnight Sun hike and witness the stunning late-night sunset

Tour the local volcanoes, glaciers, and waterfalls

Go on an Icelandic pony ride

Unwind in the geothermal baths and natural hot spring spas

Explore the quaint towns of Akureyri and Siglufjordur

Take a day trip to Lake Mývatn and see the gorgeous Goðafoss waterfall
*Cost of activities is not included in the tuition for this retreat unless listed on the "What's Included" tab
Please be sure to review Our Policies.

Registration

Click Here to Register Now!
Paying your initial deposit of $350 will lock in your tuition rate and hold your space for the trip. A non-refundable $35 Payment Processing Fee will be added to the tuition rate upon registration.

For technical questions or alternative payment options, please contact us.

Getting There
You will book airfare to the Akureyri Airport (AEY). Before booking tickets, please be sure you have received your official confirmation note that the retreat has met its minimums. There will be one group airport shuttle each way based on our flight window guidelines. Be sure your flights align with the provided flight windows if you wish to use the group shuttle.

Booking your Flight for the Best Price Possible!

True Nature Travels and STA Travel have partnered together to provide you the best airfare for your upcoming trip. STA Travel is a full-service travel agency which offers affordable, flexible fares and access to their exclusive airfare deposit program. Please use the following link to book or contact STA Travel directly: http://www.statravel.com/solutions/true-nature.htm.
Travel Insurance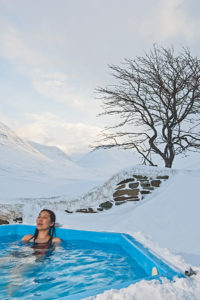 We cannot emphasize more the importance of travel insurance. As we all know, especially as travelers, "life happens." Whether it's family, work, mother nature, or a change of heart, it is important to be prepared in case you need to unexpectedly change your travel plans. Often for less than $150, you can purchase a travel insurance policy and be protected in the event that you need to make a change or need to be covered financially prior to or during your trip. To purchase insurance with the True Nature discount, click here.

Frequently Asked Questions (FAQs)
Do you have questions about traveling abroad? After you register, we will provide you with a Participant's Package with helpful information. Also be sure to check out our Participant FAQs. If you have other questions, feel free to write us at info@truenaturetravels.com and let us know how we can help!
Shared Accommodations – $2795 USD 
Single Accommodations – $4095 USD