Join Kat and Sam on a guided journey to Peru. Experience traditional ceremonies at our retreat center and explore ancient sites in the Sacred Valley, including the ruins of Moray and Machu Picchu. Reconnect to yourself with daily yoga classes, meditations, sound healing, delicious food and much more.
Sample Itinerary
Every retreat is unique and, as such, the itineraries are ever-changing! We finalize the itineraries about 3-6 weeks before the retreat.
This retreat will include morning and afternoon/evening yoga and meditation classes. The morning class will take place either just before or just after breakfast. After the first class and meal, you have free time to explore, relax, or take part in optional add-on activities. Lunch will take place midday, during this free time. There is then an afternoon class followed by dinner. An evening restorative class or group gathering after dinner may be included as well.
There will be an optional excursion offered for a full-day trip to Moray during the retreat as well as an optional 2-day tour of Machu Picchu offered at the end of the retreat.

Once your specific retreat itinerary is complete, we will send it out via email, usually two or more weeks before the retreat starts. Please keep in mind all retreat itineraries are subject to change.
7 nights accommodations

3 meals per day starting with dinner on the first night and ending with breakfast on the last day

Round-trip group transport to/from the airport

Guided Hike to Sacha Munay Waterfall

Daily yoga practices

Personal retreat time (having time to nap, explore, walk, read, and just be)
Accommodations
The retreat center's name translates as "love from the ancient forest." It is nestled in an oasis of native plants and fruit trees, nourished by a magnificent waterfall in the Sacred Valley of Peru. This lovely spot is in the Andes Mountains and home of the twelve mountains known as Apus—"luminous beings." Those who come to the center have the opportunity to commune directly with these mountains, as well as with the local curanderos and pacos (healers), who engage with us for ritual and Despacho ceremony.
The guests at this center enjoy delicious meals with locally-grown and lovingly-prepared ingredients. Each guest room is a reflection of the Peruvian culture of the Sacred Valley. The entire center embodies kindness, love, and wholeness that seem to permeate the magical place.
Kat Carter
Kat is a passionate yogi and writer with a thirst for adventure and seeking "the good stuff" in life. After leaving a demanding corporate marketing job, to pursue teaching full time, she found a completely new outlook on life. She understands the stress and sensory-overload her students face on a daily basis all too well. Kat's goal is to create a safe and inviting space for people to let go and reconnect to their authentic selves. Her classes offer a unique style of playfulness, exploration and motivation that inspire her students to take their practice to the next level, both on and off the mat. Kat teaches public classes in Breckenridge, Colorado and leads workshops and retreats around the world.
Samantha Stuber
Samantha first discovered yoga in college, and has been a dedicated student ever since. She initially came to yoga
for the physical strength & flexibility she experienced.  She stayed for the inward exploration and growth that she found. Samantha completed her RYT-200 in 2018 through Meta Yoga Schools in Breckenridge, Colorado, and is now working on her Masters degree in Mindfulness-Based Counseling & Psychology through Naropa University in Boulder, Colorado. In her classes, she strives to create an open space for her community of students to dig deeper into the self and utilize yoga to improve mind, body, & spirit connections. Samantha really enjoys sequencing poses that help balance and compliment the energetic nature of the lifestyle in Colorado. She specializes in curating strong, intuitive, and empowering vinyasa classes. Her classes are infused with intention, contemplative practice, breath work, and meaning to provide a fulfilling class and introspective experience. Her goal is to inspire students to be their best self, and to help them thrive, both on and off of the mat.
Testimonials
"I enjoyed how Kat set the sacred place for our entire retreat experience. I really enjoyed how she made us all feel very welcome, included and encouraged." — Student
"I really liked the variety of classes that Kat taught on the retreat. I liked the meditation aspects which were new for me, and the workshop we did as well." — Student
"She is my favorite yoga teacher"- "My husband and I are what might be referred to as "mature adults" and we have discovered the joy of yoga with Samantha. We found that Samantha is an excellent teacher because she is encouraging and knowledgeable.  Her instruction ability is coupled with an unmistakable loving desire to always tease out the best we have to give to ourselves in any particular class. I feel that I can detach myself from self-judgement and always leave my mat with exhilaration and peace.  My husband always remarks on how good he feels as well. We love Samantha and always look forward to her classes." — R.H. & M.H.
"I don't think I'll ever find another instructor like her." – Samantha is an amazing yoga instructor. She has taught me so much about how to perfect my breathing and my flows. I feel so confident in her classes and she always encourages me to listen to my body – something I feel like a lot of instructors overlook. She also often incorporates essential oils & head massages into her classes which make them that much better. I love her and I don't think I'll ever find another instructor like her. — K.H.
The Sacred Valley is a magical place for healing and adventure. Whether you feel called to get out and explore or stay in and restore, Peru is the perfect place to do so. During your retreat, you will have plenty of free time during which you can enjoy some of what Peru has to offer. Here is a selection of tours and activities that you will be able to choose from while in Peru:
Healing bodywork and spa treatments

Tours of the local sacred sites

Hike to the nearby waterfall

Coca leaf readings

Traditional Incan ceremonies

Explore and shop in the local villages
*Additional tours and activities are not included in the tuition price
ADD-ON MACHU PICCHU TRIP 
2-Day Tour of Machu Picchu
Shared Occupancy: $580
Single Occupancy: $620
May 16-18, 2020; depart country on May 18, 2020
This retreat includes the option to add-on an overnight tour of Machu Picchu to the end of your experience. Pre-registration is required.
Includes:
2 Nights Accommodations (1 Night Aguas Calientes, 1 Night Cusco)

Transportation (Private Transport, Bus, Train)

Tour Guide

Machu Picchu entrance fee
The journey will begin with a drive through the Sacred Valley, passing through several fascinating towns, villages, and sacred sites in the valley. Arriving in Ollantaytambo, a small town that still maintains its Inca architecture and offers the opportunity to visit and explore the majestic archaeological site, which overlooks the route to Machu Picchu.
Take a beautiful train ride from "Olla" along the river to the town of Aguas Calientes. Spend the night in Aguas Calientes, enjoying the quaint town along the river. Arrive in Machu Picchu the next day before sunrise to witness the illumination of the sacred ruins. Experience an unforgettable day at Machu Picchu, exploring the sacred Incan "City of Light," learning about the sacred ruins and taking moments to sit, breathe, and experience the powerful energy of one of the most sacred sites on the planet. After the tour, you will spend a final night in Cusco and take a shuttle to the airport the following day.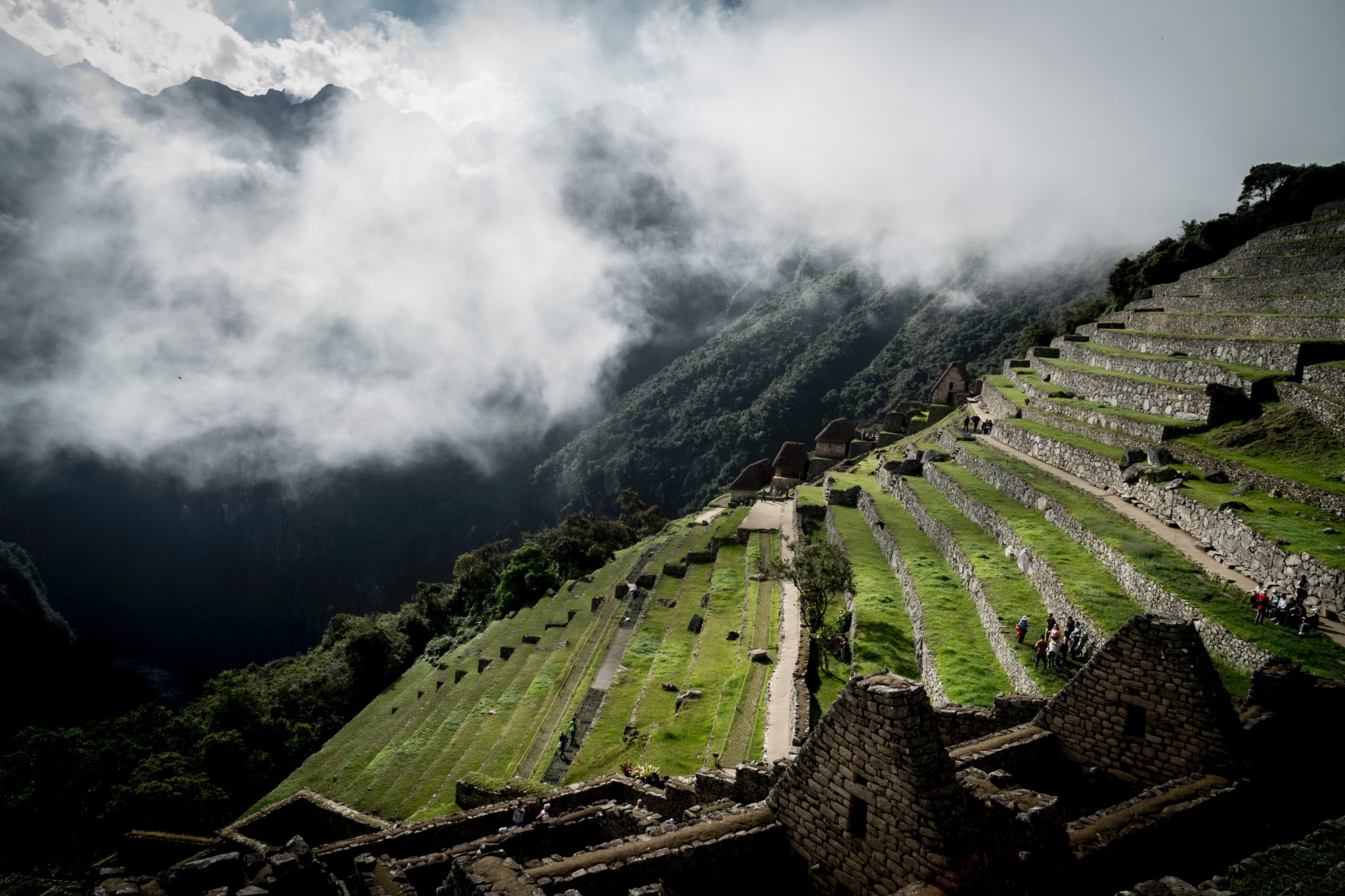 Please be sure to review Our Policies.
Registration

Click Here to Register Now!
A non-refundable $35 Payment Processing Fee will be added to the tuition rate upon registration.

For technical questions or alternative payment options, please contact us.

Getting There
You will be booking your flights for the Cusco Airport (CUZ). Most flights will arrive via a connection in Lima. Before booking tickets, please be sure you have received your official confirmation note that the retreat has met its minimums. There will be one group airport shuttle each way based on our flight window guidelines. Be sure your flights align with the provided flight windows if you wish to use the group shuttle. The drive time to the center is approximately 1.5 hours. 

Booking your Flight for the Best Price Possible!

True Nature Travels and STA Travel have partnered together to provide you the best airfare for your upcoming trip. STA Travel is a full-service travel agency which offers affordable, flexible fares and access to their exclusive airfare deposit program. Please use the following link to book or contact STA Travel directly: http://www.statravel.com/solutions/true-nature.htm.
Travel Insurance
We cannot emphasize more the importance of travel insurance. As we all know, especially as travelers, "life happens." Whether it's family, work, mother nature, or a change of heart, it is important to be prepared in case you need to unexpectedly change your travel plans. Often for less than $150, you can purchase a travel insurance policy and be protected in the event that you need to make a change or need to be covered financially prior to or during your trip. To purchase insurance with the True Nature discount, click here.

Frequently Asked Questions (FAQs)
Do you have questions about traveling abroad? After you register, we will provide you with a Participant's Package with helpful information. Also be
sure to check out our Participant FAQs. If you have other questions, feel free to write us at info@truenaturetravels.com and let us know how we can help!
Shared Accommodations – $2195 USD
Single Accommodations – $2595 USD
A non-refundable $35 Payment Processing Fee will be added to the tuition rate upon registration. For technical questions or alternative payment options, please contact us.
True Nature Travels is closely monitoring the situation regarding the COVID-19 coronavirus and its impact on global travel. If you have any questions or concerns, please contact us directly at info@truenaturetravels.com.
Cancellation
Initial deposits and the $35 registration fee are non-refundable and non-transferable.

50% of payments are refundable up to 90 days before program excluding initial deposit and the $35 registration fee.

89 days prior to a program, tuition is non-refundable and non-transferable.

Full tuition is refunded if the trip is canceled due to low enrollment. The $35 registration fee is not refundable.

True Nature is not responsible for any loss incurred due to currency conversion rates.
*If you wish to cancel your spot on a trip you must submit your cancellation by email to info@truenaturetravels.com.
Certain events may occur, including but not limited to natural disasters, political instability, strikes or other labor difficulties, insurrection, war, riots, acts or threats of terrorism, disease epidemics or outbreaks, other disturbances, or other acts of God (a "Force Majeure Event") which are beyond True Nature's control. True Nature reserves the right to cancel any Trip or Activity which, in True Nature's sole discretion, is rendered unsafe or otherwise unavailable due to a Force Majeure Event.
In the event of a cancellation due to a Force Majeure Event, True Nature will make reasonable efforts to obtain refunds for any costs or expenses paid by you through your Initial Deposit or Tuition payments and to return such refunds to you. However, True Nature cannot guarantee that it will be able to obtain refunds. True Nature shall not be liable for any loss or damage suffered by you, including but not limited to the loss of an Initial Deposit and/or Tuition, as a result of a Force Majeure Event and/or the cancellation of a Trip or Activity due to a Force Majeure Event.
Depending on the nature of the Force Majeure Event, True Nature may allow the Trip to continue with any necessary modifications or may allow you to cancel your participation in the Trip. True Nature will provide information to you about any actual or anticipated Force Majeure Event.