Do you have 4 minutes today?
"One of my students is struggling with trying to fit meditation into her work day. I asked her if she has four minutes. She said yes, I said let's meditate together for 4 minutes. After our meditation, I asked her if it would be helpful if she had a 4 minute meditation. She said, yes please!  This track is my love note to all students who struggle with meditation. Start small and build on every success." – Farah
*Footage from Playa Uvita, Costa Rica 2020
Find more about Farah and her upcoming retreat here.
FARAH NAZARALI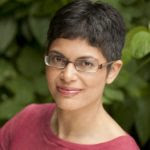 Farah is an inspirational yoga teacher, podcast host, and advocate of yogic practices that support health, happiness, and harmony. She is the founder of Drishti Point Yoga Podcasts and is currently the podcast host of In Conversation: The Podcast of Banyen Books and Sound. She has interviewed hundreds of spiritual teachers, Masters, and renowned authors and seamlessly integrates this wisdom into her teaching.
Farah specializes in teaching Workshops, Retreats, and Training locally and worldwide. She has a deep love for all things yoga and is profoundly inspired by the sacred texts of yoga, the teachings of Buddhism, and wisdom traditions that lead us to love, truth, and being of service.